Artists, Labels, & More

Whether you are an artist, producer, manager, songwriter, record label, or film company you can now work with music professionals around the world, any day, any hour. As an online music production outsourcing solution, StudioTraxx aims to reduce recording costs while increasing song quality. This is achieved by leveraging our large database of highly skilled online studio musicians who cover the entire spectrum of the music industry from birth to final product. Finding the right musician for the right project has never been easier.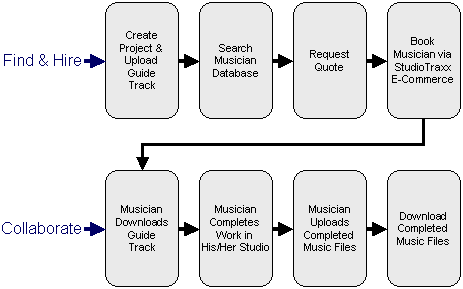 Our music professionals include musicians, sound engineers, producers, and even graphical artists for website and CD cover design. Some are graduates of the top music schools including Juilliard, Boston Symposium, Berklee, and frequently, the streets!
Once you join StudioTraxx, you have the power to find the people needed to make your project a reality. Our unique system allows you to create music projects, identify and define the specific services that you need, and then find music professionals by various criteria including genre, skill level, cost, and turn around time. After you've found the right music professional, you can book their time via an online credit card transaction and then the collaboration begins. All collaboration occurs online with music files exchanged via the StudioTraxx collaboration website.
Our mission is simple — unite those who need music services with those that provide music services.
For more information, visit the FAQ section.
StudioTraxx. Find > Hire > Collaborate


"I think working with StudioTraxx has been a great thing for my cd project. It surely simplifies a lot of aspects that I need accomplished within my production company. StudioTraxx will be a major part in my future productions and I will utilize them even more in the future."
Donald Williams, Songwriter/Producer, Street Production Enterprises
Colorado, USA



"I uploaded my bare bones song to the StudioTraxx website and then had the privilege of picking my very own drummer based on talent and price. It only took a few passes to get the drums just right. The drummer delivered the drum tracks to me through the internet and I have already put them into my project. I will be bidding again soon on StudioTraxx!"
Brian Hindman, Songwriter/Producer
Texas, USA



More Testimonials »