Frequently Asked Questions (FAQ)

StudioTraxx is a unique studio musician-for-hire online collaboration marketplace that is committed to building a global e-commerce community of musicians who are seeking to expand their creative reach in a digital world.
StudioTraxx unites those who need music services with those that provide music services. As an online music production outsourcing solution, StudioTraxx aims to reduce recording costs while increasing song quality.
StudioTraxx creates new work opportunities for studio musicians while providing competitive music production outsourcing solutions to artists, labels, and others.
What makes StudioTraxx different from other online music collaboration sites?
StudioTraxx is a dedicated studio musician-for-hire resource. No other service offers the depth and instant access to high quality global musician talent. The StudioTraxx online collaboration system was designed to allow musicians to quickly find, hire, and collaborate with other musicians. StudioTraxx caters to those engaged in projects that require the services of professional studio musicians. StudioTraxx is not an online "jam" or online "mixing" website for engaging in informal or random musician collaboration. StudioTraxx is an online music production outsourcing solution.
Through the StudioTraxx website, musicians-for-hire create "Musician-for-Hire" accounts that include a profile/resume, samples of work, availability, and hourly/project rates. Likewise, bands, songwriters, or others that require the services of others create "Basic User" accounts where they can set up a music project and then book time with musicians to provide specific contributions such as a guitar lead, bass line, drum beats, background vocals, mastering, etc. Of course, musicians can book time with other musicians too!
Once a user books time with a music professional, an email notification is sent to the music professional instructing them to review the project and to download a base guide track. After completing the work offline in the comfort of their own studio, the music professional simply logs back into the StudioTraxx website and uploads finished work as an MP3, WAV, AIFF, software specific, or ZIP file. When the work is uploaded, the user is notified via an email workflow and can then download the music file, import it into their studio software and incorporate it in their song.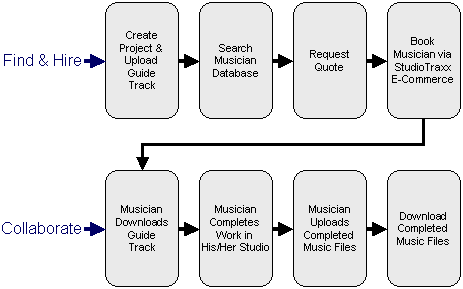 Note: Musicians can also proactively search for projects that need their particular service.
Creating an account is FREE for both "Musician-for-Hire" and "Basic User" accounts. The only costs incurred are when someone books time and purchases a service from a music professional. All hourly and/or project fees are collected online via a secure e-commerce credit card transaction.
How do musician-for-hires get paid?
Musicians-for-hire set their own hourly and project flat rates based on the various services and level of skill they provide. StudioTraxx takes a 15% booking fee for any services booked through the system with the remainder going to the hired music professional. Music professionals receive payment on the 15th of every month for any studio work that has been completed prior to that date. StudioTraxx collects payment upfront and in-full from the customer for services purchased to help insure that the customer is committed and legitmate. Holding the payment also protects the customer should there be creative differences with the musician. In the end, the goal is that a positive experience is had by all.
How do musicians-for-hire find projects to work on?
StudioTraxx provides musicians-for-hire with the ability to search for projects that require their skills. However, only projects deemed "public" projects will appear in these search results. When a project owner creates a project they have the ability to flag the project as public or private. The majority of the projects on StudioTraxx tend to be private meaning that only the project owner can initiate contact with musicians. As a result, it is common to see few public projects available at any given time. When you consider that StudioTraxx is used by artists who are serious about their music, it is understandable that many of these artists do not want their unfinished songs open to the public.
Are StudioTraxx musicians-for-hire reputable?
StudioTraxx musicians consist of some of the finest music studios, production companies, and independent musicians from around the world. To insure that the musicians offering services are qualified and reputable, we review all service provider sound samples and credentials. However, we do not claim any responsibility for the actions of our users as we have no control over their actions. We also are not an agent of or an agency for any musicians on the site.
What if I purchase a music service and am not happy with the results?
Happy is a subjective term. To ease this subjectivity, we have put some controls in place:
1) A customer may submit a refund request via email no later than (10) days after the original service purchase date. If a customer isn't happy with the service provided, it would be determined whether or not the musician-for-hire made a good faith effort to work on the person's project. If the musician misrepresented him or her self, a refund to the customer would be forthcoming. Otherwise, there would be no refund as the musician-for-hire performed work to the best of their ability.
2) To minimize dissatisfaction, a musician-for-hire must offer a minimum of at least (3) re-takes/revisions per service purchased.
3) However, it is our goal to protect both parties. As a result, we allow the musician-for-hire to back out of providing a service if they encounter unresolvable issues. If this occurs, the customer would receive a full refund.
When a booking occurs or when music files are uploaded into the system, system workflow notifications are sent via email to the appropriate users. In addtion, users have the ability to communicate privately through the StudioTraxx website with email messages initiated in the website and sent directly to the recipient's normal email account. Users can also use existing chat/instant messaging applications such as AIM, Yahoo, MSN, or Skype for real-time communication.
Who retains the rights to the completed material?
StudioTraxx makes no claim of ownership to any material. The project owner maintains all ownership and rights to the finished material. Through StudioTraxx, musicians are hired by the project owner and enter a standard "work-for-hire" agreement (Section 1.2 of Musician-for-Hire Terms & Conditions). Music professionals are compensated for time spent working on the material and do not retain any future claim or rights to the material. However, project owners and musicians are also free to make their own agreements outside of the StudioTraxx system regarding rights to material. An example of this might be a Creative Commons License.
Are there software compatibility issues?
There are no software compatibility issues. The StudioTraxx website can be accessed via any Internet browser (Example: Internet Explorer, FireFox, etc.).
The only software requirement is that both the artist and music professional use music studio software that supports the MP3 and WAV audio formats. This allows both parties to exchange track files seamlessly between different studio software programs and computer platforms (Mac vs. PC). In addition, Users can also choose to exchange software specific files and are not limited to any specific file or audio formats. (Example: Cakewalk, ProTools, Reason, .AIFF, etc.).
Musician-for-Hire MP3 audio samples should be encoded at a 44.1 KHZ sampling rate to avoid pitch problems upon Flash Player playback.