MusicGorilla.com

StudioTraxx.com is proud to have Music Gorilla as an affiliate partner. With an impressive "who's who" of label reps scouring their site (view label list), Music Gorilla has established itself as a hot bed for emerging talent.
Music Gorilla was created to help bands, musicians, artists and songwriters get their original material into the eyes and ears of industry members who have the ability to take their careers to the next level. Music Gorilla has partnered with reps from Major Labels, Indie Labels and Film Studios who have committed to using MusicGorilla.com as a resource providing that MusicGorilla would not ask the artist or the labels for a percentage of any deals.
Play it LIVE for the labels!

Music Gorilla offers live showcases. They fly the industry Rep in, out of pocket, no charge to Artist members. Playing your music and receiving reviews from Major label Reps is definitely the way to go!

Digital Distribution!

MusicGorilla.com is now an official music provider for the likes of: MSN, and Loudeye. Your music distributed digitally to MyCokeMusic and MTV throughout the world. Including: UK, France, Italy, Germany, Netherlands, Spain and more! Artists get paid per download across the globe!

Television, Film and Video game submissions!

Through relationships with music supervisors, Music Gorilla provides members with FREE unlimited submissions for film, television and video game placement!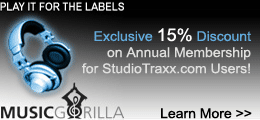 Music Gorilla Benefits:

TV, Film, & Video Game Song Placement
Live Major & Indie Label Showcases
Digital Distribution
And so much more!
Annual Membership is only $229.95 USD

StudioTraxx.com Users Receive
Additional 15% Discount!


Not a StudioTraxx Member?